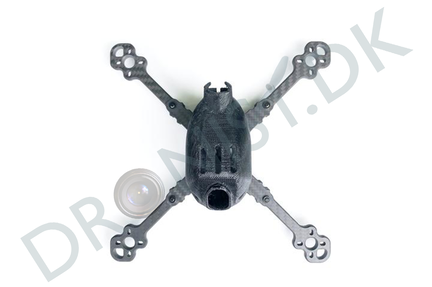 Microstorm M5-WEDEN
629,00 kr.
399,00 kr.
Varenummer: H37001
Priser er inkl. moms
Microstorm M5-WEDEN
M5-WEDEN is our first race frame. Designed for pilots that prefer a compact true-X build. Motor to motor diagonal distance is only 200mm. This makes it one of the smallest 5-inch race drones on the market. It's made of matte 3K twill carbon with chamfered edges. The pod/canopy is 3D printed in a TPU based filament. Designed to carrying your FPV components separate from the man carbon frame. The pod is intended for 19x19mm FPV cameras like Runcam microswift or similar. The camera is mounted just above the propeller height to avoid grass and dirt getting stuck on the lens. VTX munt is intended for TBS Unify Pro 31x22mm or similar and mounted in the top and fixed with cable ties and accessible through the vent holes in the top. The Antenna mount is designed for AXII or similar and mounted just by popping it in place from the inside of the pod.
When choosing hardware, we decided to use stainless steel instead of aluminum both for the M3 press nuts and the M3 hex bolts. This because we want to eliminate the risk of damaging the threads when tightening the frame. There is two lipo straps in the package, 300mm and 250mm, so you can cross strap the battery for ultimate fixture.
Arms for 6-inch propellers is also available. With this option you will be flying the smallest 6-inch race drone on the market. Only 230mm motor to motor diagonal distance.
Included components and parts
1 x Top base plate
1 x Bottom base plate
4 x 5mm arms for 5" propellers
4 x 2,5mm arm spacer
8 x M3 black press nuts for the top base plate
8 x M3x15mm black hex socket bolts for the arms and base plates
1 x Black Pod/Canopy with AXII Antenna mount
4 x M3 Aluminum gold/yellow nylon insert lock nuts for the pod
4 x M3x8mm 7075 Aluminum black hex socket bolts for the pod
16 x M3x8mm 7075 Aluminum gold/yellow hex socket bolts for the motors
4 x M5 gold/yellow Aluminum flange nylon lock nuts for the motors
3 x 250x20mm Lipo strap
3 x 300x20mm Lipo strap
Weight: " Air Frame "
M5-WEDEN:
88 g
Weight: " Dry Weight "
M5-WEDEN
Pennywise PM1
T-motor 4in1 esc
Kiss fc
TBS unify pro HV
Lumenier AXII
TBS crossfire nano with immortal antenna
Runcam microswift 2
HQ V1S 5x4,5x3
255 g