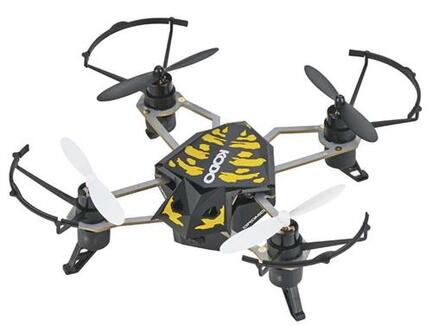 Dromida KODO Quadcopter W. Cam RTF
399,00 kr.
199,50 kr.
Varen kan desværre ikke købes, da der ikke er flere på lager
This is the Dromida Kodo UAV Ready to Fly Micro Electric Quad-Copter, with built in camera. You can pay big bucks for a camera-equipped drone if you want to. But why, when you can have the KODO for just $59.99? It's as complete as any ready-to-fly quad out there, shoots crystal-clear photos and videos, does flips at the touch of a button and measures just 3.5 inches (90mm) diagonally. And that's just the beginning.

You see small, and you think "fragile". The KODO is anything but. Smart construction makes it first-timer tough and big-time durable. The KODO is not only hard to damage, it's also easy to fly. Its advanced electronics include a stabilization system that puts a 3-axis gyro and 3 accelerometers to work keeping the KODO right-side up and level. Plus, the radio gives you a choice of three flight modes — Easy, Normal and Expert — so you can start with it, stay with it and most of all, have fun with it! In fact, with the Auto Flip button, you can do 360° flips like the pros your first time out!

It's complete, too; the KODO is ready to fly, with nothing to buy. You get everything, in one box, right down to "AAA" batteries for the 2.4GHz radio. One final thing to remember: the KODO offers the digital camera, the toughness, the ease and the completeness for less than any other camera-equipped quad. Don't wait for your birthday or the holidays. Get yours now and start shooting photos and videos tomorrow!
Features:
Fully assembled quadcopter: Molded plastic airframe offers exceptional toughness and crash-resistance. Comes finished, with motors, blades and all electronics already installed.
2.4GHz Radio System: The ultimate in dependable, interference-free flight
Auto Flip button: Push for pro-style flips whenever you want
Multiple Flight Modes — Easy, Normal and Expert: So you can customize handling and choose the flight assistance features you want
Battery Power Level LED: To let you know when it's time to recharge
Digital Micro Camera: For a bird's-eye view of the world. Shoots still photos and videos. Includes card reader and 2GB memory card. Just load, fly and shoot! Shoots 1280x960 jpeg files and 780x480 .avi files.
High-Intensity LED Lights: For easy tracking across the sky, day or night
Advanced Stabilization System: Combines a 3-axis gyro and 3 accelerometer for stable, level flight
1S, 3.7V 390mAh LiPo battery: Lightweight and power packed. Recharges fast, for flights that can last up to 6 minutes
High-Output USB Charger: To get you back into the air in minimum time
Extra Blades: For quick replacement
Blade Guards: For protection against minor impacts
"AAA" Batteries: Convenient power for the radio — one less thing for you to buy

Specifications:
Diagonal Measurement: 3.5 in (90 mm)
Weight: 1.8 oz (52 g)
Requires: nothing!

Includes:
Fully assembled quadcopter
2.4GHz radio system
Integrated digital camera
Card reader
2GB memory card
Rechargeable 1S 3.7V 390mAh LiPo battery and USB charger
(2) "AAA" batteries
(4) extra blades
(4) blade guards