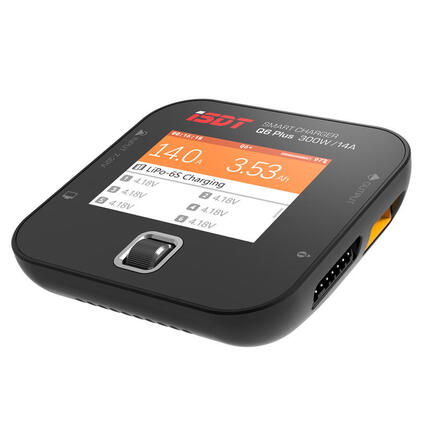 ISDT Q6 Pro Smart Charger 300W BattGO Black
549,00 kr.
Varenummer: L25801
Varen kan desværre ikke købes, da der ikke er flere på lager
Product details in english
| | |
| --- | --- |
| Input Voltage | DC 7-32V |
| Maximum input current | 15A |
| Output voltage | 0-30V |
| BattGO Support smart battery | Output support |
| Charge Current | 0.1-14.0A |
| Discharge Current | 0.1-3.0A |
| Max Charge Capacity | 300W |
| Max Discharge Capacity | 8W |
| Balancing Current | 1.0A/cell |
| Balance Cells | 2-6S |
| Color | multi-color cover |
| Supported Battery Type |   |
|   | LiFe/Lilon/LiPo/LiHv (1-6S) |
|   | NiMH/Cd (1-16S) |
|   | Pb (1-12S) |
| Display | 2.4" 320x240 IPS LCD |
| Operating Temperature | 0-40°C |
| Storage Temperature | -20-60°C |
| Dimensions | 80x80x33.5mm |
| Weight | 119g |

BattGO® - Battery Goes Smarter
BattGO® is an information exchange system between charging equipment and discharging device.Whenever & wherever easily access battery data and history record. BattGo is the next standard of information exchange system for power battery.

Brand identification and safety
Battgo certification union, safe information encrypted technology protects best interest for manufacturers and users.

Low cost
Special optimization for power battery, revolutionary battery connector with high compatibility ,lower manufacturing costs then ever.

Easy usage 
Intelligent data exchange system brings lowest user requirements and makes sure battery operation reliable and safe. 

High expansibility
Advanced system expansibility, Battgo can realize multiple functions based on need. Moreover Battgo will support parallel battery communication. 

User experience
Complete data record module, Battgo can record battery circulation info and real time all kinds of exception info.

Associated equipment
Full associated equipment including charger, battery checker, fly control devices and other interconnection devices. Battgo offers exclusive unique PC and mobile phone control program.

Best choice for power battery
BattGO is excellent in processability, for battery manufacturers no need to add new equipment, no need to modify production process. Almost without changing battery appearance and size, Battgo can upgrade normal battery to smart battery. Excellent customized software offers battery manufacturers convenient custom features to improve product testing efficiency, fast diagnostic capabilities.

Battery Manufacturer
Most optimized processing technic and production process, extremely low cost.
Super compact size of PCBA, there is no need to change the size and appearance of existing battery.
All the battery working parameters could be adjusted based on your need, one solution for all.
Battgo certification union, safe information encrypted technology, avoid any fake and fraud products.
Detail data record function provides warranty service guarantee.
Multiple customized expanded function with full system compatibility.



 
 
Charging and discharging devices Manufacturers
Battgo provides complete 3rd party SDK for application development.
Simplified development process, extremely easy to integrate to existing system.
Read detail battery parameters, by real time connection between battery and equipment, Battgo guarantees safety and reliability for battery and equipments.



 
 
For users
Cooperating with smart battery checker, PC and APP from mobile devices, users can swiftly easily get access to all the battery parameters and battery health level.
Set and record users preferred settings, Battgo devices can read users setting simplify operation process.
Built in adjustable self-discharging function, extend battery life
Regarding on size, weight connectors and etc, Battgo smart battery can guarantee best compatibility with existing battery system,maximum degree of smooth transition from battery to Battgo smart battery.