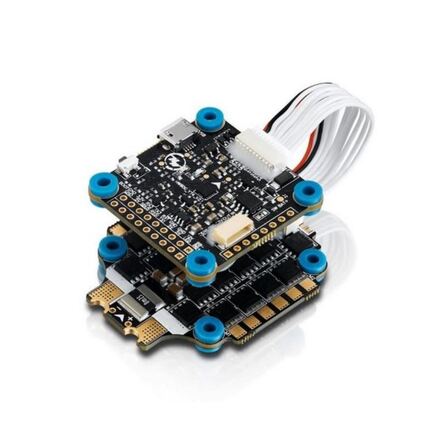 Hobbywing XRotor Micro 4in1 ESC&FC F4 G2 Combo
899,00 kr.
Varen kan desværre ikke købes, da der ikke er flere på lager
Product details in english

XRotor Micro 45A 4in1 BLHeli32 6S
The 4ini1 ESC not only includes four high-performance 45A BLHeli-32 DShot1200ESCs, two built-in BECs (5V & 10V) for powering FC, LEDs (on VTX) and otherdevices, but also a voltameter module which allows FC to monitor the battery volt& amp in real time.The XRotor Micro 45A 4in1 BLHeli32 6S with a small size(almost the same as a FC) is specially designed for competition FPV(s).
The use of high-performance 32-bit ARM MCUs with operating frequency of up to 48MHz,3-in-1 drive ICs, top quality MOSFETs & ceramic capacitors, 3-ounce copper, and 6 layers of PCBsguarantees less heat, higher efficiency and rapider response.
The Innovative connecting method via a soft cable (*it works better when pairing withthe XRotor Micro-F4-G2 Flight Control) combined with the shock-absorbing design of mountingholes effectively reduces the impact on high-sensitivity ESC components from outsideshock and provides great shock-absorbing protection to upper devices (i.e. FC).
The XRotor Micro 45A 4in1 BLHeli_32 DShot1200, which featuresthe 3rd generation of BLHeli-32 firmware, has great performance& rich functions and supports adjusting parameters or upgradingfirmware via different methods (i.e. via throttle signal wire withusing other development board or a FC flashed with theCleanfight/Betaflight/Butterflight/invaflight firmware).
Besides DShot150/300/600 digital throttle signal modes &the regular PWM/Oneshot125/Oneshot42/Multishot throttlesignal modes, the XRotor Micro 45A 4in1 BLHeli_32DShot1200 which features great anti-interference & rapidresponse also supports the latest Dshot1200 superhigh-speed digital throttle signal mode.
The ESC firmware uses hardware generated motor pwmfor smooth throttle response and silent operation. Dampedlight does regenerative breaking, causing very fast motorretardation, and it inherently also does active freewheeling.




 
 
| | |
| --- | --- |
| Model | XRotor Micro 45A 4in1 BLHeli32 6S |
| SKU | 30902090 |
| Application | FPVs with 130-300mm Diagonal Wheelbase |
| LiPo Power input | 3S-6S |
| Cont.Current | 45Ax4 |
| Burst Current | 60Ax4 |
| BEC Output | 5V & 1.5A - 10V & 1.5A |
| Input Wires | 12AWG-130mm* (Red/Black) |
| Output Wire | No wires but solder tabs |
| Connectors In | XT60 (w/ Wires Soldered on) |
| Connectors Out | no |
| Weight | 11.5g |
| Size | 32.7x18.4x6.2mm |
| Firmware | Hobbywing_XRotor_BLHeli_32 Version |
| Throttle Calibration | Supported |
| ESC Programming | BLHeliSuite32 |
| DEO | Supported |
| OneShot Mode | Supported |
| Multishot Mode | Supported |
| DShot150/300/600/1200 | Supported |
| Timing | Supported |
| Motor Rotation | Supported |

* Note: All the wire length above is the original length, not the length you see from the outside.

Flight Controller
Powerful Hardware for Super Fast Operating Speed
The STM32F405 MCU, which features powerful computing capacity & super operating speed,combined with the high-sensitivity ICM20602 6-axis motion sensor supports 32KHz PID controller &gyro. 

The built-in OSD chip allows users to adjust or set OSD parameters via theBetaflight/Cleanflight/Butterflight/invaflight software or transmitter easily. The internal TF-cardexpansion slot allows users to insert a SD card to record more flight data.

Product Name
XRotor Micro Flight Controller F4 G2




 
 
Basic Features
Compatible with (Multirotors): Quadcopter
Firmware: OMNIBUSF4SD
FC Programming: Supported
Programming via: Betaflight/Cleanflight-configurator or Others
Compatible with (Modes): PWM, Oneshot125, Oneshot42, Multishot, Dshot150, Dshot300, Dshot600, DShot1200, Proshot1000 and etc.
Compatible with (Transmitters): PPM, Spektrum, SBUS, SUMD, SUMH, XBUS, IBUS, JETIEXBUS, CRSF, SRXL, and etc.
OSD: Built-in
Voltage Monitoring: Supported
Current Monitoring: Supported
External Buzzer: Supported
LED Control: Supported
BEC: No
USB Port: MicroUSB
Size: 36*36mm
Weight: 6g