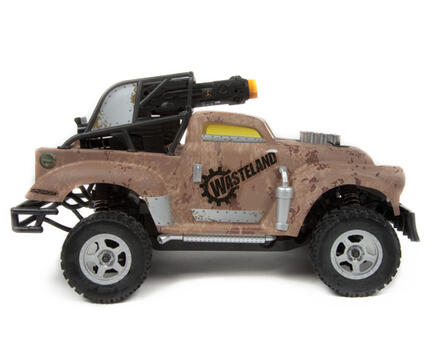 Dromida Wasteland Truck 4WD
1.249,00 kr.
Priser er inkl. moms
The Dromida Wasteland 1/18 Electric Truck features a radio controlled dart launcher so you can stage a fast-paced sneak attack on your competition. Lock and load, pick your target, maneuver into position and press the fire control button on the radio—and watch as your dart streaks 10, 20 even 30 feet toward your target. Whether you score a hit or miss, one thing is certain: you're never going to look at R/C the same way ever again!

The Wasteland Truck arrives factory-assembled and fully equipped, right down to three foam darts ready for immediate launching. It's great fun indoors or out and ready to move out…now!
Features:
Wasteland Truck:

Ready-to-run and completely equipped, right down to the foam dart launcher!
Spring-operated foam dart launcher with 3 darts
Factory-painted and decaled truck body
Installed M370 motor
Rugged, reliable 4WD system for balanced traction and handling
Tough gear differentials for dependable power delivery
Big Bore oil shocks to absorb jolts
Mounted, high-traction tires with foam inserts for better handling
Big front/rear bumpers to absorb impact energy
Adjustable camber rods, shock positions and more for performance-tuning
Ball bearings for less friction and wear, smoother operation and higher speeds

D103 Radio System:

Dependable 2.4GHz technology for interference-free control
Digital steering and throttle trims to dial-in handling
Steering and throttle dual rates to tailor speed and handling response to your preference
Battery LED for monitoring voltage
Servo reversing for setup convenience
Waterproof ESC/receiver with easy, push-button linking
Waterproof dart launcher servo and steering servo with servo saver

Batteries & Charger:

High-capacity 6-cell, 1300mAh NiMH battery
110-240V AC fast charger with international plug inserts—fully recharges pack in half the time of previous chargers

Specifications:
Length: 11.53 in (293 mm)
Width: 6.96 in (177 mm)
Height: 5.0 in (127 mm)
Weight with Battery: 1.64 lb (744 g)
Includes:
Assembled vehicle with dart launcher and three foam darts
Painted and decaled body
Factory-installed motor, receiver/speed control, steering and dart launcher servos
2.4GHz radio system
Rechargeable NiMH (Nickel-Metal Hydride) battery
AC fast charger (100-240 VAC)
4 x "AA" batteries
Needed to Complete: